From being the chef Rajiv Om Hari Bhatia to foraying into Bollywood as a hunky Akshay Kumar, his journey has been fabulously phenomenal. 3 three decades and this man is still ruling. Comic timing, distinctive action style, villainous streak, wackiness, naughtiness, pelvic thrusts (Chura Ke Dil Mera), loverboyness (Teri Oor) to angry Kumar, this one man army turned around the tables so many times that we just can't stop tripping over his awesomeoness. Today, as the gentleman turns 48 (so much handsomeness/fitness/oomphness for a man of this age), here are some kickass roles he essayed!
Na hum Amitabh, na Dilip Kumar, na kisi hero ke bacche, hum hain seedhe sadhe Akshay Akshay! Need we say more?
Flashback begins:
When he went rollin' rollin' rollin' rollin'
Ahem, only Akshay Kumar could have done this!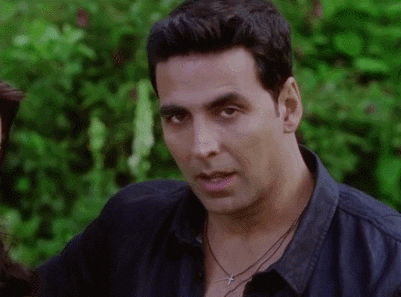 That gaze though. So much love *sigh*

When he made this humble point.
You don't want to mess with Akshay.
What machoness!
We all do this, don't we?
Hey you!
When he was no less than a killing machine.
We lold hard!
When he roared like a lion.
And yes, he is totally mast-mast!
For the crazy steps, dapper looks, smart beard styles, workout dedication to some of the most epic dialogues, thank you for the amazing things. A very happy birthday Akshay Kumar!